Shortcuts
Research Interests
The best way to check my more recent research interests is to read the selected research topics on
this page
. The following list of research interests may be slightly out-dated.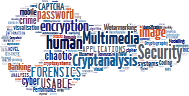 Main Interests
:
Human Factors in Cyber Security
- password security and usability/
graphical passwords
/
observer-resistant password systems (ORPSs)
/user authentication in general (e.g.
PassInfinity
)/mobile security and privacy/security and privacy in
online social networks
/human behavior in cyber security and privacy such as
cognitive modeling
/
identity management
/
CAPTCHA
/
e-banking security
/
social engineering
/
phishing
/
malware
/
security visualization
/
privacy enhancing technologies (PETs)
,
Security Economics
- security and privacy issue in cryptocurrencies/
e-banking security
/
identity theft/anti-phishing
/economic modelling of security systems/e-payment/underground economy/economics of cyber crime, Information Hiding - Activities based information hiding/steganography and steganalysis/digital watermarking,
Digital and Multimedia Forensics
and applications to (cyber) crime investigation and prevention, Multimedia Security - multimedia encryption and cryptanalysis/
applications of discrete optimization in multimedia security
/multimedia forensics/perceptual hashing,
Multimedia Computing
- multimedia coding/
visual quality assessment (VQA)
/
RVC (Reconfigurable Video Coding)
/color science, applications of
chaos
and
fractals
in Computing - cryptanalysis of chaos-based cryptosystems/chaos in digital domain/applications of fractals for security
General Interests
:
Cyber Security and Privacy
, Cyber Crime and Digital Forensics, Human Factors, Human-Computer Interface,
Hybrid Human-Machine Computing (HHMC)
such as
human computation
and
crowdsourcing
,
Scientometrics
, Nonlinear Science, Complex Networks
The opportunities are also open to collaborators who are not students (faculty members and postdoctoral fellows) especially if they can bring students from their sides as human resources.
Research Grants/Fellowships
This list does not include all grants especially those smaller travel and equipment grants. For a complete list, see
Shujun's CV
.
Ongoing
Past
NB: Most small research grants are not listed here. See
Shujun's CV
for a complete list.